Used MINI Cooper Countryman
Not too many put MINI together with sport utility vehicle, and yet, there is the MINI Cooper Countryman. MINI's crossover SUV has the feel of your standard MINI, including the fun-to-drive setup, but also offers all the amenities and features that you expect from an SUV. Even among MINI enthusiasts in Manhattan, Bronx and Queens, there are those who wonder if stepping up to the Countryman is a good idea, often after encountering a good deal in a used vehicle.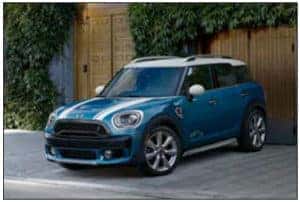 The MINI Countryman has a lot to offer in every area. Let's take a look at a review and breakdown of the used MINI Cooper Countryman, learn what makes it a great SUV and where you can go for a test drive today.
Used MINI Cooper Countryman – Features
A used MINI Cooper Countryman is a great SUV. It got a redesign in 2017 and used models of that year should be hitting the market soon. Even before that year, though, there were still great features that make this crossover an outstanding choice if you're looking to upgrade from your standard MINI to an SUV styling.
Countryman Setup
First things first: the Countryman is a compact crossover SUV. It's bigger than the standard MINI, which means it's got lots more legroom and some more storage, but it's not a full-sized SUV. It's got four doors and plenty of room both up front and in the backseat for passengers. It has available all-wheel drive and it sits up higher than your standard MINI. Finally, it's got about double the cargo space of the regular Cooper, while the engine offers about the same power.
This is a MINI SUV built for MINI fans, and it offers the exact same driving experience you could want from the manufacturer, while also delivering a full range of features that you desire from a crossover sport utility vehicle.
Options and Features
At its most basic level, the Countryman gives you heated mirrors, automatic headlights, automatic climate control, remote entry, leatherette upholstery, push-button start, cooled glovebox, and six-way adjustable seats. Entertainment-wise, you get a six-speaker audio system with Bluetooth, CD player, HD Radio tuner, USB and Auxiliary ports.
At higher levels you can get dynamic traction control, turbocharged engines, sport-tuned suspensions, fog lights and more. You can also upgrade your audio system to a 10-speaker Harman Kardon setup with upgraded display screen, and upgraded driver information display. You can also get GPS navigation as a free option.
Drive and Ride
Between the easy-to-access central controls, soft-touch plastic and customizable interior, and comfortable seats, you get a peppy and fun driving experience, just like you'd expect from MINI. If you're a fan of this manufacturer, you can't go wrong by upgrading to the Countryman SUV.
Test Drive at MINI in Manhattan, NY
If you'd like to check out a used MINI Cooper Countryman and you live in Manhattan, Queens or Bronx, MINI of Manhattan has a number of them in stock and ready to go. Give us a call, or stop in to take a walk through the lot and look at our inventory, then take a test drive today!