2019 MINI Countryman Dimensions

The 2019 MINI Countryman doesn't conform to what you expect out of an everyday SUV. It comes with turbo power, luxury amenities, and a unique design. This design gives you not only a stylish vehicle, but also one that balances a spacious cabin with an easy-to-handle vehicle that is perfect for the streets of Manhattan, Bronx, and Queens.
Our team here at MINI of Manhattan has detailed the 2019 MINI Countryman dimensions below to show you how this vehicle gives you both the interior space and exterior shape you need for your new vehicle.
Related Posts:
MINI Countryman Interior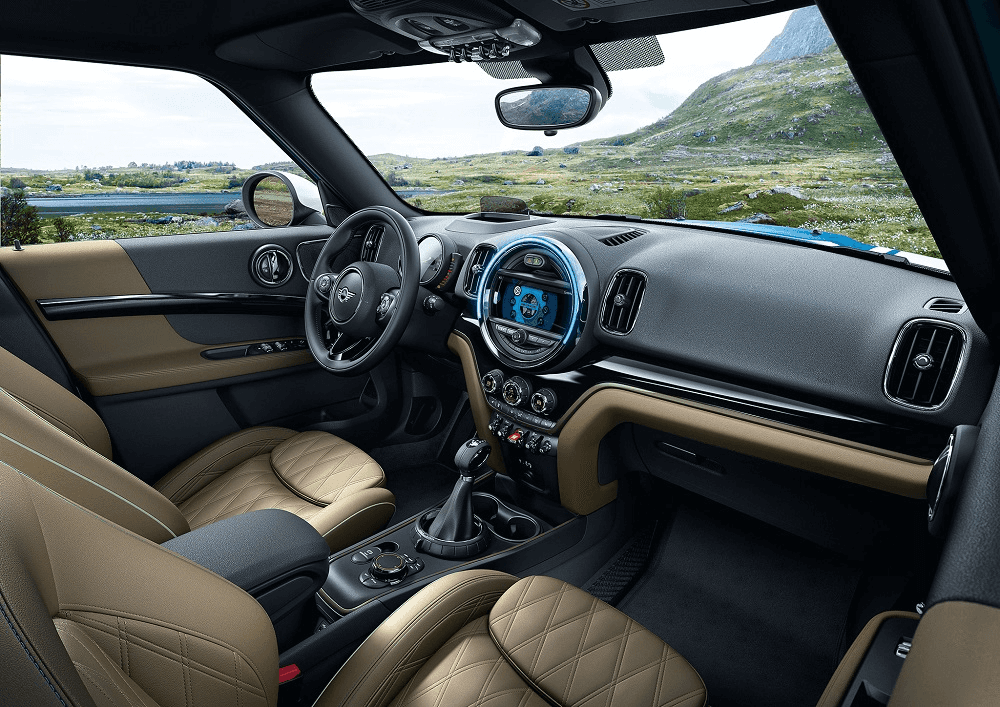 There is nothing mini about the interior of the 2019 Countryman! With seating for five and up to 47.6 cubic feet of cargo volume, there is plenty of space inside the MINI Countryman to fit your friends or any gear you are taking along for your trip.
The front seats of the 2019 MINI Countryman are supplied with 39.9 inches of headroom and 40.4 inches of legroom. The passengers in the back row also will enjoy a good amount of personal space to stretch out as well. These seats have 37.5 inches of headroom and 37.6 inches of legroom.
Beyond that, there is also 17.6 cubic feet of cargo volume behind both rows. This will let you pack luggage, store items, and carry anything else you and your friends are taking along with you. When all the back seats aren't being used for passengers, you can use that space to haul larger items inside the 2019 Countryman.
More Than Just a Stylish Exterior
The unique and stylish exterior of the MINI Countryman also is built to give you a well-handling SUV. Unlike other big and bulky SUVs, this vehicle is easier to handle and more fun to cruise around in. It has a wheelbase of 105.1 inches and a length of 169.8 inches.
Agile driving is provided not only by its powertrain but also by its overall size. With a height of 61.3 inches and width measuring in at 78.9 inches with the mirrors included, the 2019 MINI Countryman will navigate tighter and more narrow streets with ease. You will also be able to fit this SUV into smaller garages and parking spots.
MINI Countryman Engine Specs
Along with its dimensions, the various specs of the 2019 MINI Countryman also show that this SUV gives you a fun driving performance. That includes its engine. Powering the MINI Countryman is a 1.5L TwinPower Turbo three-cylinder engine. This engine will deliver 134 horsepower and 162 lb-ft of torque.
You can gain even more robust power with the Countryman with the available 2.0L TwinPower Turbo four-cylinder engine. This will unleash 228 horsepower and 258 lb-ft of torque.
See What Else Awaits in the 2019 Countryman
The 2019 MINI Countryman dimensions show that this vehicle doesn't sacrifice interior space when it comes to making an SUV ready for the city streets. This model will provide great maneuverability around Manhattan, Bronx, and Queens while giving you and your passengers a comfortable ride.
There are even more aspects of this car that make it an extremely enjoyable SUV to drive. Come by MINI of Manhattan to see the other features found inside the 2019 Countryman!