2019 MINI Cooper Hardtop Technology

Since its inception, MINI Coopers have allured lovers of the road, thrill-seekers, and those who crave invention while driving. For drivers in the Manhattan, Bronx, and Queens, they have sparked a new devotion when hitting the streets, and it's all thanks to their industry-leading features.
The 2019 MINI Cooper Hardtop technology additions are surely some to be reckoned with. Both the two- and four-door models come equipped with a suite of tech that will not only keep you connected and entertained but safe, as well. Keep on reading to find out why we at MINI of Manhattan know this to be true.
MINI Cooper Hardtop: Unbeatable Tech
As soon as you step into your MINI Cooper, you will be met with a plethora of forward-thinking features that will make you fall in love with driving all over again. From providing you with a perfect soundtrack for long rides, to ensuring you never miss a beat when away from the office, this vehicle sets you up for success and pure bliss.
Apple CarPlay™ – With the power of Siri® on your side, you can keep your eyes on the road while still accessing everything you need. Stream music, accept phone calls, send texts, and gain important information right on your onboard interface.
Navigation – End the days of wasting time trying to find the best route with MINI's Touchscreen Navigation System. You can arrive promptly and in style while receiving real-time traffic updates to make your drive that much easier.
Head-Up Display – If you've ever wanted to feel like a pilot, you're in for a treat. The MINI Cooper Hardtop includes a state-of-the-art retractable display that puts important info, like your speed and navigation, right on your windshield.
Find Mate – Ever worry about leaving something behind? There's no need to with MINI Find Mate. This innovative phone app allows you to place a tag on an item, and if it notices you're driving away without it, it will alert you with a notification.
2019 Cooper Hardtop: Keeping You Safe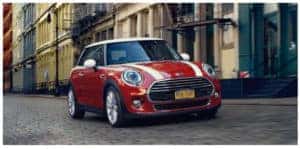 MINI's technology isn't only based on convenience and fun, but it also keeps you secure while driving. With the revolutionary safety features found inside of the Cooper Hardtop, you'll be able to drive confidently knowing this luxury vehicle has your back the whole way.
Driving Assistant – This feature acts as a second driver, ensuring you never find yourself in a not-so-ideal situation. Using camera-based technology, you'll gain the aid of Forward Collision Warning and Automatic Emergency Braking systems.
Upgraded Airbags – With eight unsurpassed airbags, you'll never feel safer. These airbags even monitor impact harshness and adjust inflation to help protect everyone in your vehicle if the unthinkable happens.
LED Headlights – You'll be able to see the road ahead clearly no matter the condition with these progressive headlights. With rain- and dark-sensing capability, you won't have to worry about being left in the dark.
Strong Body – The frame of the 2019 MINI Cooper Hardtop has an ultra-rigid body. Using progressive engineering, they have crafted something that enhances suspension and withstands incredible forces.
Want to know more? Check out this full 2019 MINI Cooper Hardtop Review from MINI of Manhattan!
Learn More at MINI of Manhattan Today
Now that you know all about the 2019 MINI Cooper Hardtop technology, we know you're ready to experience it for yourself. To do so, contact our dealership today to schedule a test drive. We proudly serve drivers in the Manhattan, Queens, and Bronx areas.