MINI Cooper Hardtop Lease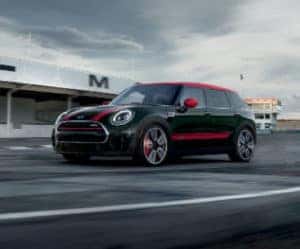 With its zippy performance, exciting styling, and practical design, the MINI Cooper Hardtop is one of the most desirable vehicles on the market. If the Hardtop sounds like the right choice for your needs, why not consider a MINI Cooper Hardtop lease from MINI of Manhattan? With a lease, you'll enjoy all the newest features and amenities of your vehicle without the long-term commitment, and we're proud to offer the most competitive lease deals available.
Learn more about the Hardtop lease and find out how our dealership can help you get the most competitive lease around.
About the MINI Cooper Hardtop
With snappy performance in a standout package, the MINI Cooper Hardtop is one of the most popular and exciting vehicles on the market. Its compact size is perfect for maneuvering around the crowded streets of Manhattan, and the animated handling and lively performance is sure to bring a smile to your face.
There are always new innovations, however, so if you want to experience the newest features every few years, a lease is your best option. With a lease, you're free to drive your vehicle for a few years before trading it in on your next pick, with no concern for future value or resale. Leases also have a lower monthly payment and little to no down payment, so they're a valuable option for many drivers.
Browse Our MINI Cooper Hardtop Inventory
With such features as a 6.5-inch infotainment screen, enhanced smartphone integration, a turbo engine, performance seats, and a sport exhaust available throughout the Hardtop lineup, it's important to have options when you start your search. Fortunately, our dealership is proud to offer a massive inventory of MINI Cooper Hardtop models for lease, as well as the most current lease deals to help you get the most value.
From the practical base model to the race-inspired John Cooper Works, the Hardtop comes in every configuration you can imagine. If you're not sure where to begin, our sales representatives will be happy to help. We know all there is to know about the MINI Cooper, so let us guide you through your selection and help you find the perfect model for your needs.
MINI Cooper Hardtop Lease
Once you find your favorite Cooper Hardtop, visit our finance center to learn more about leasing benefits and our lease deals. Our experts will go over all your options and help you get the best deal for your needs, so you can be confident in your decision.
You can also learn more about leasing a MINI and leasing vs. buying on our website. We provide many shopping tools for you to choose from, as well as our full inventory of vehicles, so you can prepare for your visit.
Visit Our Dealership
If you're considering a MINI Cooper Hardtop lease, visit MINI of Manhattan to browse our inventory and check out our current lease deals. No matter what you're looking for, we're sure we find your perfect match, so contact our dealership to see what we have to offer!