Used Car Dealerships near Bronx, NY
As the northernmost of all of NYC's five boroughs, the Bronx tends to be on the outskirts of the action sometimes. Nevertheless, there's enough going on here on any given day that it's almost impossible to get bored.
What's surprising to many people is that out of the 42 square miles of land that comprises the borough, a pretty hefty chunk of it is actually open space and parks. The Bronx is more well-known for Van Cortlandt Park and the New York Botanical Garden than for some of their indoor attractions.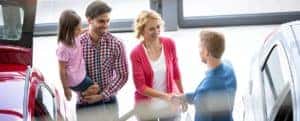 However, the Bronx is also home to Yankee Stadium. As perhaps the city's favorite sports team, this piece of baseball history is a major cornerstone of the community. There's never a dull moment there!
If you're looking for a ride to your next baseball game or down to the park, our used MINI Cooper dealer near the Bronx, NY, has just what you need.
Why Buy Used?
When drivers come to MINI of Manhattan to begin looking for their next car, they tend to have a lot of questions about our selection of used vehicles. New cars have a reputation as always being reliable. Used cars? Not so much.
Granted, our inventory of used and certified pre-owned (CPO) cars tends to throw this stereotype right out the window. See, as soon as a vehicle falls into our hands, we take the time to thoroughly inspect it and fix any issues it may have.
In particular, the CPO cars at our used MINI Cooper dealer near the Bronx, NY, go through a serious reconditioning process. We have high standards and any components that don't appear to be up to spec are immediately replaced with genuine MINI parts.
After all is said and done, our used cars run so smoothly and reliably that it's hard to tell that they were ever owned before.
Perks of Shopping with Our Used MINI Cooper Dealer near Bronx NY
The bottom line is that the team at our used MINI Cooper dealer near the Bronx, NY, is confident in the quality of our pre-owned vehicles. To show you, we tend to offer some special perks with our CPO cars.
In addition to the other benefits mentioned, such as our full reconditioning and rigorous inspection, our CPO cars also come with a 24/7 roadside assistance plan and the MINI Protection Plan. If things go wrong with your vehicle, we'll have them taken care of in no time at all.
Find a Used MINI Cooper near Bronx NY Today
At MINI of Manhattan, we like to make things easy for our customers. From offering our entire inventory online to supplying local drivers with high quality vehicle service, you'll find that shopping for your next car is pretty low in stress.
When you're ready to find your next used car, be sure to visit our used MINI Cooper dealer near the Bronx, NY. We'll have you out on the road in a great car before you know it.