Signs Of Low Tire Pressure
Low tire pressure can cause some serious issues in terms of performance, safety, and efficiency for your vehicle. So the best thing you can do is ensure that your tires are properly inflated at all times. But unless you have a tire pressure monitoring system (TPMS) in your vehicle, you may not know exactly when to even check your tires.
What are the Signs of Low Tire Pressure?
If your vehicle's tire pressure is low, it's likely that you've noticed something that you may not immediately associate with low tire pressure. Here are a few of the most common signs:
Vehicle is making a flapping sound while driving.
The vehicle feels weird when turning.
The vehicle takes longer to stop than usual.
The vehicle is getting lower fuel economy than normal.
The Pressure is Low, Now What?
Inflating your tires is an easy process if you have a tire pressure gauge and a few minutes of spare time. All you need to do is remove the air pressure valve on the tire and press the tire gauge firmly. Usually the gauge has a little white stick that juts out and lets you know the pressure in the tire.
You can find the proper inflation level on the sidewall of the tire. It's a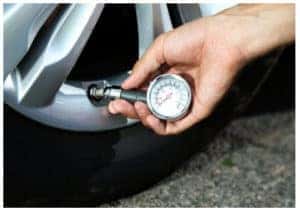 number with PSI after it, indicating per square inch, which is the air pressure measuring unit. If the tire pressure is too low, then you need to inflate the tire with an air pump.
You can get an affordable one at major stores or you can stop at your local gas station where there's an air station. Many of these even have built in air gauges. Just be sure not to overinflate the tire, as this could cause major issues in terms of performance.
The Pressure Keeps Dropping, What Do I Do?
If you find that you're regularly inflating your tires just to meet factory standards, you may be experiencing a more severe problem with your tires. Consistently low tire pressure is a sign that your tires need to be replaced. There could be cracks or a hole you can't see. Avoiding the issue will only make it worse. So what should you do?
You need to replace the tire. And that comes with a whole slew of other necessary tire services to ensure that all of your tires get even wear, weight, and use. You'll need a tire replacement, tire rotation, and wheel balancing at the same time. And if you haven't had one in a while, you should also consider a wheel alignment to ensure that all tires are facing the same direction. This ensures even wear and tear and increases vehicle fuel economy.
Tire Service in Manhattan, NY
If your tires need any of these services, your best bet for getting high-quality service is to bring your MINI vehicle to the professionals at your local MINI service center near Manhattan, Bronx, and Queens. MINI of Manhattan offers all of the tire services you need to ensure that your tires will give you the performance you want and need to keep your passengers safe.
Schedule a tire service appointment at MINI of Manhattan online now and enjoy pickup and drop-off service, shuttle service to Columbus Circle train and bus stations, and a complimentary car wash with your next service.