MINI Cooper Warning Lights

The MINI Cooper is equipped with an advanced dashboard warning light system. These MINI Cooper warning lights are designed to let drivers in Manhattan, Bronx, and Queens, know when there's a maintenance or service problem with their vehicle.
To help our customers better understand their MINI Cooper, our team here at MINI of Manhattan has put together this guide. Inside you'll find some of the most commonly seen dashboard lights.
View our MINI Cooper Inventory
Red MINI Cooper Warning Lights
The red warning lights usually indicate that something should be checked immediately. Some of them include:
Safety Belt Reminder: This light looks like a passenger with their seatbelt on. When it illuminates, it means that either the driver or passenger side belt is not buckled. It can be easily resolved by simply fastening the seatbelt. It may also activate if heavy objects are placed in the front passenger seat.
Brake System: This dashboard light appears as a circle enclosed by parenthesis with an exclamation point inside. It also has the word "BRAKE" beneath it. When you see this light, it means the braking system is impaired in some way. You may be able to continue driving cautiously, but have your vehicle serviced as soon as possible.
Airbag System: When you notice this dashboard light, it will look like a seated passenger with a solid circle in front of them. This light indicates that the airbag system and belt tensioner are not working.
Orange Warning Lights
The orange dashboard lights of the MINI Cooper indicate some of the safety and driver-assistive features.
Vehicle Detection: This light is part of the available Active Cruise Control System. It looks like the rear of a vehicle. When it illuminates, a car is detected up ahead. If the light is flashing, it simply means that road conditions are not adequate for the system to function properly.
Active Cruise Control: This warning light looks like a road with a certain number of bars laid across it. The number of bars that are illuminated indicate the pre-selected distance from the vehicle ahead.
Yellow Warning Lights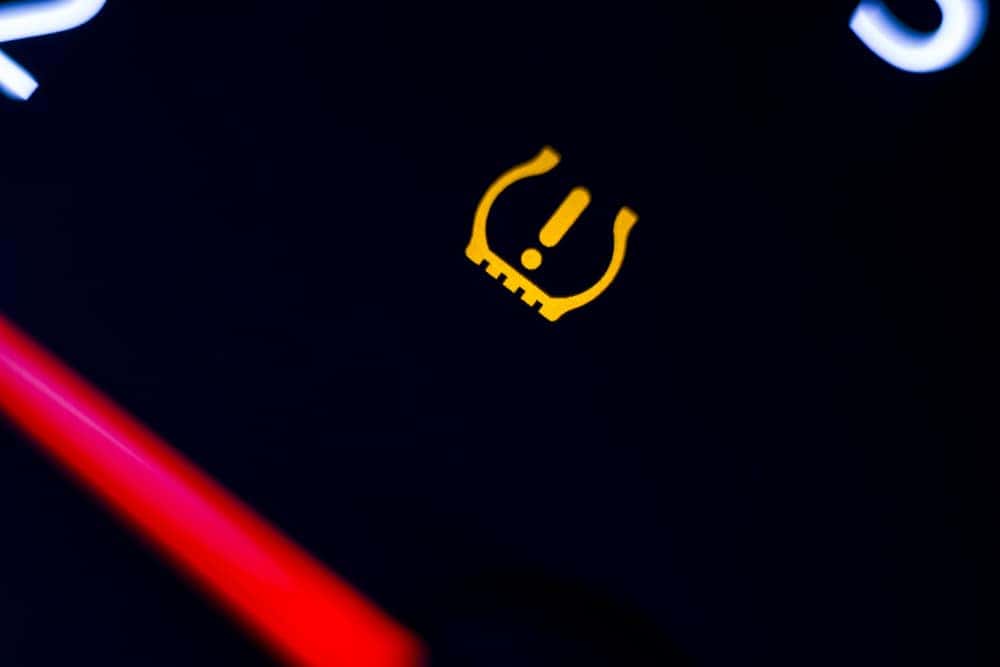 Most of the MINI Cooper warning lights are yellow. The issues that they alert you to should be checked as soon as possible, but you can probably keep driving in the meantime, as long as you do so cautiously.
Tire Pressure Monitor: This indicator light reports low tire pressure or a flat. It looks like a horseshoe with tire treads on the bottom and has an exclamation point in the center. This light will blink and then light up to signify a malfunction in the detection system.
Steering System: This light appears as a steering wheel with an exclamation point next to it. When you see this, it means that there are certain components of your steering system that are not working correctly.
Anti-Lock Braking System: You will want to avoid sudden braking when you see this warning light, which is three letters: "ABS." It signifies that brake force boost may not be working. Have your vehicle serviced immediately.
Emissions: This dashboard light appears as an engine. It indicates that the emissions of the MINI Cooper are deteriorating. You should have the vehicle inspected as soon as you can. If the light is flashing, it means that there is excessive misfiring in the engine.
A Warning Light Is On, Now What?
The MINI Cooper warning light system was created to keep drivers in Manhattan, Bronx, and Queens apprised of all their vehicle's maintenance and service needs. So, if one of the lights above illuminates, you should come visit us here at MINI of Manhattan. Our trained technicians at our service center will be able to tell you what that specific dashboard light means, and then they'll get to work fixing the problem.
Schedule a service appointment today!