MINI Cooper Clubman vs BMW X1

A great way to get around Manhattan, Bronx, and Queens is in a compact luxury crossover. The MINI Cooper Clubman and the BMW X1 are two crossovers that have surely made a name for themselves over the years, but which one is right for you?
To help you find out which model will suit your next drive, our team here at MINI of Manhattan has put together this comparison. Below, you'll learn more about their performance, comfort, and technology.
Capable Performance
When it comes to getting you where you need to go, both crossovers can get the job done, no matter the weather conditions. They both offer available all-wheel drive systems. The BMW X1 can be equipped with the xDrive system, while the MINI Cooper Clubman has the available ALL4 All-Wheel Drive system.
You'll also get the ability to fine-tune the capability of either model with the available drive mode selectors. Whether you're looking for more fuel efficiency or a sportier drive, both models have the ability to adapt to your needs.
If it's options that you want, you'll have choices with the MINI Cooper Clubman. While the BMW X1 can only be outfitted with one standard engine, the Clubman has two available engine choices, so you can make sure its power is suited to your needs.

In the Lap of Luxury
When you're looking to purchase a luxury vehicle, you want the interior comfort and convenience that goes with it. While both models offer superior relaxation, there's a clear front runner here.
Both models have enough room to seat you and four friends in a selection of available leather-trimmed seats. With the X1, however, you'll only get an automatic climate control system. The MINI Cooper Clubman, on the other hand, has an available Dual-Zone Automatic Climate Control system, so you and your passenger can personalize your level of comfort.
The MINI Cooper Clubman gives you the convenience of split rear doors. It makes loading up a breeze, and it offers a stylish and iconic look. On top of that, it gives you a unique way to relax at the next tailgate or picnic.
Other Post You Might Like: 2019 MINI Cooper Clubman Dimensions
Inventive Technology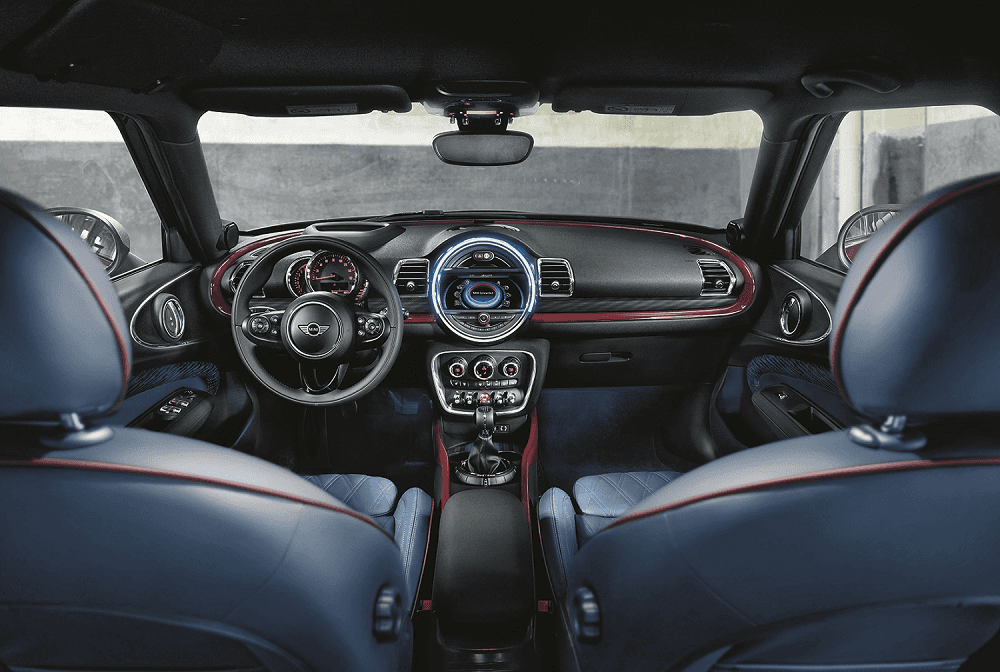 Both the MINI Cooper Clubman and the BMW X1 come with a standard 6.5-inch touchscreen display from which you can control the onboard infotainment systems. Both models also come with Apple CarPlay™ integration, so you can stay connected to the apps you love.
On top of that, the available navigation systems will keep you on track in whichever crossover you choose. You'll be able to keep your eyes on the road, too! Both the Clubman and the X1 come with an available Head-Up Display. That means you'll be able to keep an eye on the information that matters most, and you can stay focused on the road.
There are also advanced safety features, so that you'll have more peace of mind out on the road. The Active Driving Assistant can be outfitted to both crossovers. It gives you technologies like Forward Collision Warning and Automatic Emergency Braking.
Drive the Victorious MINI Cooper Clubman
After examining all the facts in the battle of the MINI Cooper Clubman vs. BMW X1, it's clear that the MINI Cooper Clubman is the luxury vehicle that's worthy of the top spot. If you're interested in test driving this one-of-a-kind crossover, then come visit us at MINI of Manhattan.
Take the Clubman to the streets of Manhattan, Bronx, and Queens to see if it's the right car for you. Schedule a test drive today!
Related Post: 2019 MINI Cooper Clubman Review