Car Inspection Near Me
At MINI of Manhattan, we want all of our customers to be safe as they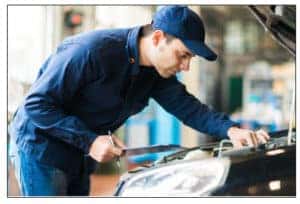 strike out on those Bronx, Queens, and Manhattan roads. And one of the best ways for us to do that is to make sure that all drivers stay up to date on their state inspections.
The state inspection is a yearly examination that ensure that every car in the state meets the minimum standards for safe operation. This cuts down on the kind of unavoidable vehicle faults that can cause major hazards for you and drivers around you.
So, what does your state car inspection entail? Read on to find out.
Car Inspection near Me: The Essential Checklist
Your state car inspection should be performed every 12 months or as soon as a vehicle is registered in a new name. This is all to ensure that your car runs in safe operating conditions, and that it passes the emissions testing necessary to cut back on pollution.
To nab the sticker that will act as your car's passing grade, the vehicle must be inspected by a licensed service center. If it fails in any of the following categories, the car will have to be repaired, or in extreme circumstances, scrapped.
Seat Belts
Brakes
Steering, Front End, Suspension, Chassis, Frame, and Wheel Fasteners
Tires
Lights
Mirrors, Windshield (including Wiper Blades), and Windows
Horn
Fuel Leaks
Prepping your Car for State Inspection
Nobody likes surprises at state inspection time (especially considering these surprises tend to be expensive). The best way to avoid inspection repairs is to stay up to date on routine maintenance throughout the year.
While technicians are working on those maintenance items, they're bound to notice if something else is off. Catching these issues early can save you a whole lot of time and money down the line.
Where to Go for a Reliable Car Inspection Near Me
Since the state car inspection is all about the safety of you and your family, you'll definitely want to have it performed by a reputable and thorough technician. And fortunately, that's exactly what our service team is comprised of.
We make sure that all our technicians stay up to date on the latest and most effective repair and maintenance practices. Combine this fact with our state-of-the-art service center and a cadre of high-tech tools, and they have all they need to get the job done.
Scheduling your car inspection is easy, too. All you've got to do is get in touch with the team online or over the phone. We'll have your car in the shop as soon as possible.
Ready to Schedule Your State Car Inspection?
If you're searching for the most convenient service center for your Manhattan, Bronx, or Queens area car inspection, you need look no further than our dealership. At MINI of Manhattan, we're happy to help drivers keep their cars in the safest condition possible.
If your state inspection date is fast approaching, don't hesitate to contact our service center and make an appointment!