Car Battery Replacement
Your MINI Cooper's battery is the first source of power. It's the mechanism that sparks to life your alternator, starter engine, and fun gadgets and gizmos. As you drive, the vehicle keeps the battery charged, but just like a regular remote battery, it will eventually need to be replaced.
If your MINI vehicle is showing signs of a necessary battery replacement, you'll need to take immediate action or risk being stranded somewhere in Manhattan, Queens, or Bronx.
MINI Cooper Battery Replacement Schedule
Depending on the model and year of your MINI vehicle, your MINI car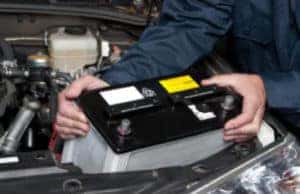 battery replacement timeline will likely fall between three and five years. We understand that the two years in the middle of that possible timeline can get a bit murky, so you have a couple of options for how to deal with the uncertainty.
The first option is to replace your car battery every three years whether or not it's dead. The second option is to look out for signs that your car battery is dying and take action then (see below for dying car battery signs). And the third option is to take a closer look at your owner's manual and check for a service interval and follow it.
Signs That Your Car Battery Is on the Fritz
If you've come to the conclusion that your best course of action is to pay attention to your vehicle, then we have a list of dying car battery signs that you're going to appreciate. There are a few things you can look out for that indicate it's time to replace your car battery, including the following:
Battery light is illuminated. Whenever one of your MINI dashboard lights is illuminated, it's time for a service appointment, but the battery light is one you especially want to pay attention to. This light indicates that a problem with the charging system and you could break down at any moment.
Frequent turnover when starting the vehicle. This is a sign that your car battery is dying and needs to be replaced immediately. Don't shut off the vehicle; take it directly to your service center and have it replaced to avoid being stranded.
Vehicle won't start and then will start. If you try to start the vehicle and it won't start and then a little later it will start, you need a new battery. Again, don't shut off the vehicle; take it directly to your service center for a MINI Cooper battery replacement.
Schedule a Battery Replacement Service
If your MINI vehicle's battery has shown signs that it's dying or it's coming up on the three-year mark, it's time to start thinking about where you're going to take your vehicle for the battery replacement service. MINI of Manhattan is a full-service MINI dealership and service center near Bronx and Queens that offers the battery replacement service for your MINI Cooper.
Conveniently located at 793 11th Avenue in New York, NY, MINI of Manhattan offers all of the MINI repair and maintenance services you need to keep your MINI vehicle on the road and running smoothly. Schedule a MINI battery replacement service now.