Brake Repair
Taking care of your MINI Cooper is all about getting your regular service and maintenance at the proper service intervals. That timeline is indicated in your MINI owner's manual and includes information about all of the MINI preventative maintenance services you can do to keep your vehicle running smoothly. One of the most important services for your MINI vehicle is regular brake repair services.
MINI Cooper Brake Repair Services
Part of staying up-to-date with all of your regular maintenance and service
requirements is getting your MINI brake repair service done according to the MINI maintenance schedule in your owner's manual. But there are a few indicators that you might need a brake repair service sooner. These can be broken down by the most common brake repair services we perform here at the MINI of Manhattan service department.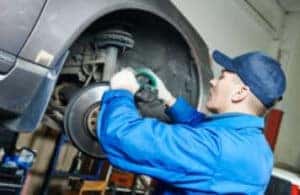 MINI Brake Pad Replacement Service
A brake pad replacement service is indicated when you hear a high-pitched squealing from the MINI vehicle when braking. This sound is caused when the warning layer of the brake pad is grinding against the vehicle's rotors.
Other indicators that your brake pads need to be replaced include illumination of the brake light, pulling to one side when braking, vibrations when braking, and unusual pressure in the brake pedal (can be either too hard to press or press down too easily).
MINI Rotor Replacement Service
A rotor replacement service is indicated when your vehicle is making a grinding noise or movement. You'll often feel the grinding when braking in your steering wheel or vehicle seat. This means that the vehicle's brake pads have worn down too much and are now grinding in to the vehicle's rotors. Failing to get the rotors replaced on time could cause a brake failure, wheel misalignment, uneven tire wear, and decreased vehicle performance.
MINI Brake Inspection Service
A brake inspection service can be done on your MINI Cooper during your regular maintenance appointments. Since you're probably coming in every six to 12 months for your regular oil change, vehicle inspection, and overall wellness maintenance appointment, this would be a great time to ask for a brake inspection for your MINI vehicle. We'll ensure that the braking system is in good working order by checking the thickness and condition of the brake pads and rotors and checking the level and quality of the brake fluid.
Schedule a MINI Cooper Brake Repair Appointment
If your MINI Cooper vehicle is showing signs of a necessary brake repair, schedule an appointment at a MINI service department near Manhattan, Bronx, and Queens. The service team at MINI of Manhattan is equipped to diagnose and repair any brake issues your vehicle may be having.
We offer a full range of services, including pickup and drop-off service for your MINI vehicle, complimentary car wash with every service, and a shuttle service to local areas for your convenience. Schedule your MINI brake repair service at MINI of Manhattan now by scheduling a service appointment online.