MINI Cooper Service FAQS
Even the savviest drivers still have some questions about how and when to schedule maintenance appointments, as what goes into certain repairs. This is why MINI of Manhattan has created this MINI Cooper service FAQs. We took the most asked questions and answered them for you below. Just keep scrolling to find your question and answer, then schedule your service appointment quickly and easily online!
Auto Service FAQs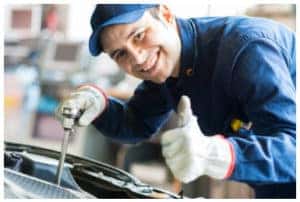 How Often Should I Change My Oil?
Changing your oil every 5,000 to 7,000 miles is recommended to keep your vehicle's engine properly lubricated and cooled. Although all vehicles are different, this is a good rule of thumb to go by, but if you'd like to know exactly when MINI recommends it, check your owner's manual.
How Do I Check My Vehicle's Transmission Fluid?
If you know how to check your brake fluid, you're in for a good start because checking the fluid in your transmission is very similar. First, make sure your engine is warm and running in Park or Neutral. Next, locate the transmission's dipstick and pull it out. Check the fluid's consistency by dabbing your finger in the fluid at the end of the stick. This fluid should be clear and pinkish.
Now, wipe the fluid off the stick with a clean rag that is free of lint, reinsert it into its home, and pull it back out again. You can easily check your fluid level by seeing where it lies between the Full and Add lines.
How Often Should I Change My Air Filter?
To keep your vehicle running effortlessly, you should change your air filter every 15,000 to 30,000 miles. However, depending on your driving habits and the environment, you may need to switch it out more often. If you drive on dirt roads or live in a highly polluted area, changing it sooner may be needed.
How Do I Change My Brake Pads?
Since this is a very extensive project that requires many mechanical tools, having a professional at your authorized MINI dealership change your brake pads for you is a good idea. This not only saves you time and worry about doing it incorrectly, but technicians also know how to do this quickly and will even inspect the rest of your brakes to ensure everything is working properly and make any necessary brake repairs they find.
When Should I Replace My Car Battery?
While the way you drive, where you drive most, and other aspects factor into this, your battery will begin to lose some of its power after four years of use. After this time, it's a good idea to pay close attention to any signs that you may need to install a new one. However, if your battery light is on, there is a leak in your system, or your fluid is low, it might be time for an upgrade now.
How Often Should I Rotate My Tires?
Keep your tires healthy and running smoothly by rotating your tires every 6,000 to 8,000 miles. This ensures you will not have to deal with uneven wear on the tread of your tires. To make things simple and a little easier to remember, just schedule a tire rotation every time you change your oil!
How Much Air Pressure Should My Tires Have?
Recommended tire pressure for your MINI Cooper during non-winter months should be between 30 and 35 PSI (pounds per square inch). You can check this by using a tire-pressure tool and filling up or deflating your tires to reach the optimal pressure.
Schedule Service at MINI of Manhattan Today!
Falling in love with a MINI Cooper is easy. Their innovative technology, iconic look, and top-of-the-line performance components truly make these vehicles a leader in the Manhattan, Bronx, and Queens area. Although these vehicles are a top-runner in the field, keeping them running smoothly requires some auto repairs from time to time.
Whether you need further assistance with your MINI or it's just time to schedule some regular maintenance, our professional team of technicians is ready for you. They won't only make your car safer to drive in the Manhattan, Queens, and Bronx areas, but it'll run properly for longer. Visit our MINI Service Center today!