Wheel Alignment
A new car is a pristine machine, one that drives so smoothly and quietly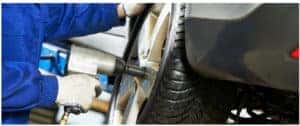 that it might feel like a dream. Still, over time, your wheel alignment can shift, and eventually, your car might not drive quite as nicely.
You might get used to driving a bit crookedly, enough so that you wouldn't even realize anything was off. However, staying up to date on alignment is of the utmost importance.
At MINI of Manhattan, we've put together this article to help all Manhattan, Bronx, and Queens drivers identify when their wheel alignment is off.
Spotting the Signs Early
Your alignment is probably never going to be as perfect as it is the day that you drive your car off the lot, or out of the mechanic's shop. This is because the second you hit the streets beyond, you're bound to encounter uneven pavement, potholes, and all sorts of natural imperfections that can throw things out of balance.
You can avoid holes and rocky roads to the best of your ability, but over time, that alignment is still bound to slip. When it does, these are the signs that you'll want to start looking for:
Your vehicle pulls to one side during a stop
The steering wheel vibrates
The steering wheel is off center
Your tire wear is uneven
You might get used to these issues over time, but they're far more than a simply nuisance. These problems can actually cause lasting damage to your vehicle's underbody or wheels.
Your Car Will Thank You
It's difficult enough to drive on uneven roads (particularly when you live in an area with harsh winters). And a bad wheel alignment can make things even more challenging by pulling your vehicle.
Ultimately, this is just your car's way of crying for help. It'll thank you later with smooth, like-new driving. (You'll probably even thank yourself.)
Maintaining Your Alignment
How often an alignment is required will vary based on the condition of the roads in your town, as well as your personal driving habits. However, rule of thumb states it should be checked every two years or so. In the meantime, here's what you can do to keep it healthy:
Make sure your tires are balanced and properly filled
Try to avoid potholes and bumps as often as possible
Clear your trunk to decrease the weight on your tires
Is Your Next Wheel Alignment Due?
Now that you know all the signs of a bad alignment, does your car seem to be displaying them? If so, then you won't want to wait on it. Manhattan, Bronx, and Queens drivers should schedule a service appointment right away.
The team here at MINI of Manhattan is well-equipped to take care of your alignment for you. Get in touch online or over the phone to schedule a wheel alignment today.