Used Mini Cooper Clubman
Few people think of MINI and a big car in the same sentence, but they do offer a larger version of the vehicle: the MINI Cooper Clubman. This vehicle is loved by MINI enthusiasts across Manhattan, Queens and the Bronx for its expanded passenger and cargo space, while still holding onto a nimble and compact profile. It's in many ways a revival of the old-school Morris MINI Traveller wagon from the 1960s. Now, it's making a splash again, and gaining in popularity.

At the same time, used cars are perennially the most popular kinds of vehicles on the roads, and a lot of drivers turn towards pre-owned vehicles to get a great car at a lot less money. So what about the Clubman? What does it have to offer? Let's look at a solid review of the Used MINI Cooper Clubman, and where you can find one to meet your needs for driving around the city streets and highways.
Used MINI Cooper Clubman
A revival of the original 1960s wagon-style MINI, the modern Clubman is a 2-door hatchback that seats four. It's a bit larger than the regular MINI Cooper, but still has a small enough profile to make it easy to handle. It offers more legroom for passengers and a good 3.5 more cubic feet of cargo carrying space.
Engine Options Available
The modern MINI Cooper Clubman comes in base level, S-trim and John Cooper Works trim. It's powered by a 1.6-liter 4-cylinder engine which delivers 121 horsepower and 114 lb-ft of torque. It's possible to upgrade to a turbocharged engine which can give you 181 hp and 177 pound-feet of torque, making it from zero to 60 in just around 7 seconds. The top level engine is 208 horsepower.
Each of these engines are driven by a standard six-speed manual transmission, but an automatic version is optional.
Features
The convenience and technology features in the Clubman are pretty solid as well, as MINI believes in customizability. Of course you'll get antilock brakes and stability control as standard, and the audio controls are stylish and easy to read and use. Some people have described the Cooper as looking like a sci-fi spaceship cockpit, and there's no difference here.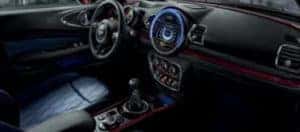 It's roomy and comfortable, and has plenty of space even for tall people. With the back seat folded down it will give you 32.8 cubic feet of cargo space, enough to haul a good amount of stuff. As with any MINI, it's just plain fun to drive. It's actually an ideal balance of fun and practicality.
MINI Cooper Clubman in Manhattan NY
If you're in the Manhattan, Bronx or Queens areas, MINI of Manhattan has a line of used MINI Cooper Clubman vehicles in stock and ready to go. All you have to do is give us a call or stop into our showroom to take a look at our inventory. We can help you get into the Clubman that exactly meets your individual needs. Give us a call and talk to one of our sales representatives to set up a test drive today!