Synthetic vs Conventional Oil – Which is Right For Your Vehicle?
It's no mystery that one of the most common services that your vehicle needs to be at its optimal performance is having the oil changed regularly. However, do you know what type of oil is needed for your specific vehicle? Let our team at MINI of Manhattan show drivers like you in the Manhattan, Bronx, and Queens areas the different types of oil and what types of vehicles require them.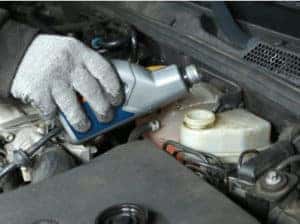 Follow this link to schedule service for your vehicle.
What is Synthetic Oil?
If you have a newer vehicle, or a car with a more modern engine, it's recommended that you use synthetic oil. This oil type was specifically designed to work with newer engines to provide a great deal of protection and lubrication. A lot goes into this oil to increase its abilities and its longevity.Synthetic oil goes through a rigorous purification and refinement process. It's broken down into its most basic form of molecules so chemists can remove the impurities left over from the crude oil. Once they're removed from the oil, certain additives are put in to help increase the protective coating offered by the oil. These additives give the oil a better temperature resistance, allowing it to perform smoothly in both hot and cold temperatures.This type of oil is best suited for newer models, but it is also recommended for most performance or sport cars, as well as luxury brand models. Due to the purification process that synthetic oil goes through, it can outlast most oils. In some cases, drivers can get about 6,000 miles out of each oil change, but to be sure, you'll want to check your vehicle's manual or guide.
What is Conventional Oil?
Since conventional oil has been around before the advancements in the automotive maintenance world, it's best with older model cars. Conventional oil doesn't go through a meticulous purification process to help extract the impurities. Instead, the crude oil receives a few additives to provide better protection to withstand heat and not break down as easily as it normally would.Conventional oil generally lasts about 3,000 miles before requiring a change. It doesn't last as long as synthetic because the oil doesn't get broken down. If you driver an older model, check your manual to see if your engine uses conventional oil so you can learn about the frequency of your oil changes.
Is There Any Other Oil Types?
Despite synthetic oil and conventional oil being the most popular for vehicles, there are two other oil types that deserve recognition. However, these oils are specifically tailored for certain vehicles, so be sure to find out if your car requires any of these special oil types.The most common third oil option is synthetic blend. This oil takes the best of both worlds and it's a great oil to use to get the protection offered by both oil types. It can help reduce any engine damage that can occur during cold temperatures, as well as long engine running durations.The other oil option is high mileage oil. This is specifically catered to used vehicles or older models. It's best used with vehicles that have more than 75,000 miles. Be sure to check your manual or talk to a technician for the best advice.
What Type of Oil Should I Use with My Car?
As you've read, each of these oils are meant for different types cars. However, your vehicle's manual will tell you the specific oil that your engine needs to perform at its absolute best. Make sure you check to see the type of oil that your manufacturer recommends, as well as seeing what the oil life duration is, so you can prepare for your next oil change.If you'd like to learn more about these different oil types and how they help protect your engine, please give us a call at MINI of Manhattan. We'd be happy to share this information with our drivers in the Manhattan, Bronx, and Queens areas.