MINI Cooper Hardtop Interior
---
---
If you're in the Manhattan, Bronx or Queens regions and you're a MINI Cooper fan, you're probably curious as to what the interior of the latest model of Hardtop is like. Is it comfortable? What's the technology like? Is it still fun to drive? Well, the answer to the last question is yes, of course it's still fun to drive.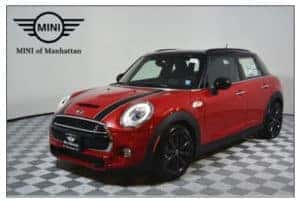 MINI is known for its driving experience and that never seems to change. However, with every new model year brings new features, and these are supremely customizable. Let's read a thorough review and breakdown of the MINI Cooper Hardtop interior and where you can go to take a test drive and experience one yourself.
MINI Cooper Hardtop Interior Features
For those who might be concerned about a new year and new changes, the new MINI Cooper Hardtop interior is the same fun, peppy and comfortable interior that you've always known, just with a few upgrades. It's still supremely customizable and has all the options you've come to love, plus a few more surprises!
Overall Cabin
First, the basic materials in the cabin are comprised of high quality soft-touch plastics, which are of a much higher quality than in many other compact cars. These can also be customized with a number of different trim coverings – a hallmark of MINI. Taken together they offer a supremely warm and welcoming cabin.
In addition, you get ambient lighting on the doors. This changes colors based on the individual driving mode you choose. It makes for another fun and whimsical element of driving a MINI.
Controls
One of the primary aspects of any compact auto cabin is the center console and controls. You need controls that are easy to access, intuitive to use, and won't take your focus off of the driving experience. Here's more good news; the 8.8-inch central display screen that drives the MINI's infotainment system is large, centrally located and very easy to reach and control with the single controller knob. It's comprehensive and very easy to use.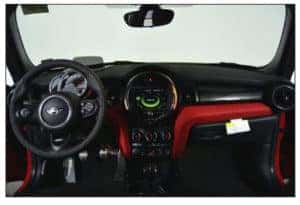 In addition you'll get great technology like Bluetooth phone and audio, full smartphone app integration, and a premium sound system with HD radio, USB ports, Auxiliary jacks, and the potential to upgrade the whole package to a 12-speaker Harmon Kardon setup.
Seating and Comfort
The seats in the Hardtop are outstanding for both driving position and support. Whether you're tooling around town or taking a road trip you'll be riding in comfort. There's plenty of room up front for the driver and the passenger, and the driving experience is peppy and fun. It's got a low center of gravity which makes it a lot of fun to steer. It's very playful to drive and feels solid on the roads, while feeling muscular in acceleration. It maintains MINI's rep as a fun-to-drive vehicle.
If you're in the Queens, Manhattan or Bronx area and you're looking to explore the MINI Cooper Hardtop interior for yourself, MINI of Manhattan has a full line in stock. Give us a call or stop in to check out our inventory and take a test drive today!