2018 MINI Cooper Countryman vs Nissan Juke
When it comes to fun-to-drive sport utility vehicles that are affordable and have more personality than any other car on the road, there's two places you can turn: MINI and Nissan. The MINI Cooper Countryman and the Nissan Juke are absolutely the most uniquely styled and fun cars on the roads today. They've got personality to spare and nothing compares to the experience of driving one.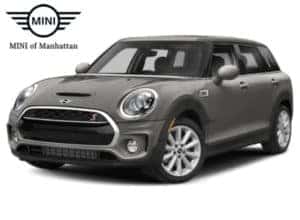 In fact, look around the streets of Queens, Bronx and Manhattan and you'll see lots of these vehicles tooling around; their drivers are proud of their spunky vehicles. But which one measures up better when they're put up next to each other? Let's look at the offerings, differences and similarities between the 2018 MINI Cooper Countryman vs Nissan Juke, as well as where you can test drive the winner.
MINI Cooper Countryman vs Nissan Juke – Comfort and Roominess
One thing to keep in mind about MINI is that it's always been a manufacturer that prizes space. Despite the car's name and deceptive profile, there's tons of room inside to keep drivers and passengers comfortable both up front and in the back. Though the Countryman and the Juke are pretty close in this area, the 2018 MINI Cooper Countryman just edges out the Juke in terms of interior space.
Performance and Efficiency
The Juke and Cooper come out pretty well neck-in-neck when it comes to gas mileage, with each getting between 28 and 33 mpg EPA-estimated fuel efficiency. Power-wise, the base engine for the Nissan Juke delivers a bit more punch, being an Inline-4 compared to the Inline-3 of the Mini.
However, that Inline-4 is all you get with the Juke. The Mini, on the other hand, has a whopping four different engine configurations from which to choose and the highest power puts out 228 horsepower and 258 lb-ft of torque, which outperforms that of the Juke's engine.
Options and Customization
There are few cars on the market today that allow the degree of customization available in the MINI line of vehicles. In fact, it's really easy to just get carried away, between customizable exterior paint jobs and tons of color options and visual trim touches. You can opt for sport seats, special shifters, panoramic sunroof and more.
That doesn't even begin to touch upon the MINI Connected infotainment system, driven by a 6.5-inch touchscreen that's upgradeable to 8.8 inches, larger than that in the Juke, which means it's easier to reach and use altogether. You can also upgrade it to a high-end Harmon Kardon sound system with special heads-up display as well as a complete suite of Active Driving Assist features and tons of convenience add-ons.
Test Drive a MINI in Manhattan, NY
Sleek isn't a word that people often associate with MINI, but in terms of the lines and the various levels of customization you can apply, it's certainly a word that applies. In just about every way that counts it edges out the Nissan Juke, which unto itself is a really great vehicle.
While it's sure that whichever you choose will make you happy, we think drivers in the Queens, Manhattan and Bronx areas will fall in love with the new 2018 MINI Countryman. If you're looking to learn more, stop into MINI of Manhattan today and ask about checking out one of these crossover SUVs for a test drive!