MINI Cooper Countryman vs Clubman
MINI offers two sport utility vehicle options sure to please Queens, Bronx and Manhattan drivers: the Clubman and the Countryman, and both have a lot to offer MINI Fans. Which, however, is the better one for your needs? Let's explore the options, features and offerings between the 2018 MINI Cooper Countryman vs Clubman to help you decide on your next SUV.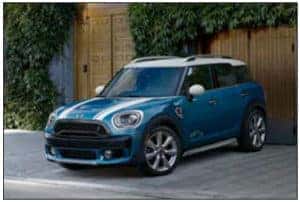 2018 MINI Cooper Clubman
The 2018 MINI Cooper Clubman provides outstanding performance and reliability just like what you expect from MINI, while keeping the cost exceptionally affordable. It also allows for outstanding customizability with a wide range of potential options packages and add-ons. It allows you to build precisely the car you want.
2018 Clubman Options
The sheer wealth of options on the 2018 Clubman are mind-boggling. Choose from heated seats, alloy wheels, satellite radio, special custom detailing and color schemes, GPS navigation, leather upholstery, parking sensors, outstanding safety features, rear view cameras, power seats, keyless entry and more.
You even get features at the base level that are normally reserved for more upscale cars, including push-button start, automatic climate control, and automatic windshield wipers. It offers superior space inside, both in terms of cargo area and passenger space.
Performance
The Clubman's base 3-cylinder engine can go from 0 to 60 in just around 8 seconds. It's no sportscar, but then it's not intended to be. You can, however, choose the S-level trim and get a turbocharged four cylinder which delivers significantly more miles. There's also a six-speed manual transmission for superior control over your driving.
2018 Mini Cooper Countryman
The Countryman is a larger crossover SUV, and many fans refer to it as the big Mini. Last year the company increased the size, and that carries over to this model year. While the Clubman resembles a larger wagon, this one has more of a boxy, truck-like feel while still carrying the distinctive MINI Cooper profile.

Countryman Options
The options and features in the Countryman are largely what you expect from past years. You still have the paddle switches and toggles inside, but a newly upgraded touchscreen interface for your infotainment system really updates the modern feel of the SUV. The inclusion of the MINI Convertible's Open Time option is also celebrated by fans.
You'll get keyless entry, sunroof, rearview camera, parking sensors, synthetic leather upholstery, automatic headlights, sport-designed and heated seats, LED daytime running lights, LED headlights, and rugged 18-inch wheels.
Performance
The Countryman is really designed to deliver superior performance. It's standard 3-cylinder engine can be paired to either a six-speed manual or six-speed automatic transmission, and in the S-configuration you can upgrade to a 2.0-liter turbocharged 4-cylinder engine with an eight-speed automatic transmission. You can also choose a four-wheel drive option.
Also available is a hybrid model that gives you 221 horsepower and is capable of traveling almost 25 miles on electricity alone. Recharging at a 3.6K wall box takes only 2 hours for a full charge. It also offers plenty of space for passengers and cargo.
MINI Cooper Countryman vs Clubman – Test Drive
The new 2018 MINI Cooper Clubman and 2018 MINI Cooper Countryman are outstanding vehicles for drivers all over Manhattan, Queens and Bronx roads. The biggest difference is the size; if you're looking for a wagon-like experience, go for the Clubman, while the Countryman is a bigger SUV. For more information, stop into MINI of Manhattan today!