2019 MINI Cooper Countryman Safety Review

 Safety features are one of the most important aspects of every car, but when it comes to crossover sport utility vehicles, they become even more important. Drivers across Queens, the Bronx, and a number of Manhattan areas understand that an SUV's job, beyond performance and cargo space, is to keep you safe on the roads.
Among the more popular crossovers in the region is the MINI Countryman. This vehicle offers a fun-to-drive attitude with an unmistakable look, and all the cargo space and performance you'll need, even being available in a hybrid version. But does it live up to the safety requirement? Let's look at a thorough review of the 2019 MINI Countryman safety features, and learn where you can check them out yourself.
2019 MINI Cooper Countryman Safety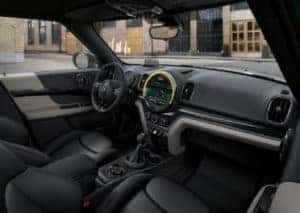 The new MINI Countryman offers all the standard safety features one would expect. It starts with the general passive safety features to improve your control and protect you in case you do have an accident.
In terms of passive safety, you'll get anti-lock brakes to keep you from skidding or sliding, traction control to beef up your ability to maintain a steady ride, and seatbelt pre-tensioners to keep you in an optimal seating position if you have an accident. There are airbags at all the standard regions so that if you are in an accident, your impact will be cushioned to minimize injuries. These include the front and side areas, overhead, and knee regions.
Active Safety Technology
The 2019 MINI Cooper Countryman is packed with the best active safety technology, all designed to keep you alert and aware, improve visibility for you and for those around you, and to help you avoid accidents. At the very basic level, you get rear parking sensors and a rearview camera, so that there's little risk of an accident while backing up.
  Advanced stability control will let you maintain perfect control of your car in the toughest environmental conditions, while LED fog lights prevent you from being blinded in those conditions. Auto-dim mirrors further bolster your visibility by protecting you from the bright lights of cars around you. You can also add automatic parking, so that you never have to worry about getting in and out of tight spots.
The active driving assistant helps you to respond to sudden and unpredictable situations. It includes a front crash warning system with Automatic Emergency Braking to avoid or reduce the impact of accidents. Overall, all the safety features you want are available and ready to go.
See the Countryman at MINI of Manhattan
With a whole range of both active and passive safety features, the new Countryman is a great choice for individuals or families, with all the performance and fun you expect from a MINI, and the peace of mind you demand.
If you're in Manhattan, Queens, or the Bronx, you can check out the 2019 MINI Cooper Countryman safety for yourself at MINI of Manhattan. Just contact us today and we'll be happy to answer all your questions and get you behind the wheel for a test drive!