MINI Cooper Countryman Maintenance
---
The MINI Countryman is one advanced vehicle. It includes intelligent safety features, fully integrative entertainment, and cutting-edge engine optimizations. Likewise, Countryman service is just as advanced, taking maintenance out of the driver's hands whenever possible.
If you've never experienced a system such as the MINI Maintenance System before, you may be a little bit confused. So, our team at MINI of Manhattan has put together this guide for all our Manhattan, the Bronx, and Queens customers.
What is the MINI Maintenance System?
It can be pretty hard to keep track of your car's maintenance. Oil changes and tire rotations are standard and shouldn't slip your mind too often. What about alignments? What about tire replacements?
Fortunately, you don't need to keep track of these things in your Countryman. The MINI Maintenance System will do it for you.
How Does It Work?
This system is constantly running vehicle diagnostics to monitor performance. When oil runs lows, filters get old, or fluids need replacing, your MINI will pick up on it right away. When there's a major problem, even if the system can't determine exactly what it is, it will let you know something is wrong.
How Will I Know?
As soon as routine maintenance is due or a much bigger issue arises, the MINI Maintenance System will send you alerts in one of two ways.
a) The maintenance service display, which can be found under the speedometer
b) Through your car's radio, which can be accessed manually
The MINI maintenance service display tends to list those easy to detect service reminders, like oil or tire rotations, etc. Along with the maintenance item, it will also list a date of or miles until your next appointment is due. These items include:
Engine Oil (date & miles)

Air Filters
Tire Rotation & Tread Check
Front Brake Pads (miles)
Rear Brake Pads (miles)
Brake Fluid (date)
Vehicle Check (date & miles)
Let the Professionals Take Care of Things
If a vehicle check is required, that means a more complex issue has been detected, one not easily discerned through standard diagnostics alone. You may be able to find more information by manually checking the "Vehicle Information" in your radio's menu.
However, your best bet is to call your local MINI professionals to take a look at things. At MINI of Manhattan, the premier MINI dealership in New York City, our skilled technicians will have no problem determining the problem.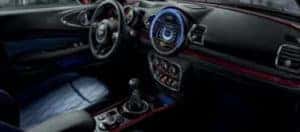 If your MINI Countryman is alerting you to an unknown issue, don't wait on it. City living wears on a car, and you wouldn't want a small issue to snowball into something irreparable. Contact MINI of Manhattan online or over the phone to schedule a proper inspection.
Maintenance Made Easy
No matter which MINI you're driving, the common goal always seems to be convenience. Manhattan, the Bronx, and Queens drivers will have no problem keeping track of maintenance with the intelligent MINI Maintenance System.
If you have any other question regarding the maintenance service display in your MINI Countryman, don't hesitate to contact our team at MINI of Manhattan. We'll guide you through this technology in minutes. Call us today for more information!