MINI Cooper Convertible Interior
Since its conception, the MINI Cooper's exterior has gained plenty of recognition for its iconic European design and numerous customization options. However, Manhattan, the Bronx, and Queens drivers may be surprised to find that the interior is equally as bold.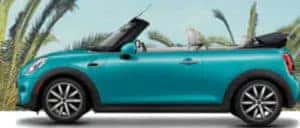 In this review, our team at MINI of Manhattan is going to break down some of the finest qualities of the MINI Cooper Convertible interior.
MINI Cooper Convertible Interior Space
The MINI is known as being a compact vehicle-you only have to look to the name to understand that. Nevertheless, there's far more to the Convertible than meets the eye.
In total, this four-passenger vehicle includes 76.3 cubic feet of space just for occupants, with 39.8 inches of headroom and 41.4 inches of legroom for drivers. Up front, you should have no reason to feel cramped. In the back, you'll even have 7.6 cubic feet for cargo.
Design Options
One of the things MINI Cooper is most well-known for is the amount of customization options you have, exterior-wise. However, you'll have plenty of options with the interior, too, particularly when it comes to upholstery.
Several different high-end trims are available for your convertible seating. However, leather seems to be the standard. For a touch of class, you can add Malt Brown Chesterfield leather with diamond-pattern stitching, for instance.
You'll then, of course, have the three-in-one roof-the centerpiece of the MINI Cooper Convertible. Where most convertible rooftops offer only two options, open or closed, this convertible has a third. You can turn the top down halfway to mimic the panoramic sunroof found on many other MINI models.
MINI Cooper Convertible Interior Technology
Speaking of that three-in-one convertible top, there's some neat technology that comes with it too. The new Rain Warner feature comes as part of the Journey Mate trip planning app. This feature will let you know when the bad weather is coming so you know just when to put the top back up.
Several other awesome tech features are available in the MINI Cooper Convertible, most of them part of the MINI Connected suite. This dynamic system combines entertainment, navigation, and communication all in a single, easy-to-use suite.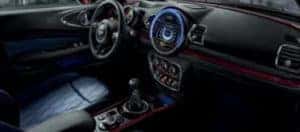 The 6.5-inch touchscreen comes standard to the MINI Cooper Convertible. From here, you can access music streaming services such as Spotify® or Pandora®, your GPS for live traffic updates, or make hands-free calls.
All these great technologies are easy to control with the available touch controller with handwriting recognition. This ergonomic dial is placed near your shifter so you can control your MINI Connected features without having to take your eyes off the road.
Time to Take the MINI Cooper Convertible for a Spin
On a nice day, there's nothing better than driving through Manhattan, the Bronx, or Queens with the wind whipping through your hair. See for yourself by contacting MINI of Manhattan to schedule a MINI Cooper Convertible test drive.
You'll be so comfortable, you won't want to get out. Contact us today to schedule yours!