2018 MINI Cooper Clubman vs 2018 Volkswagen Golf
Both the 2018 MINI Cooper Clubman and the 2018 Volkswagen Golf are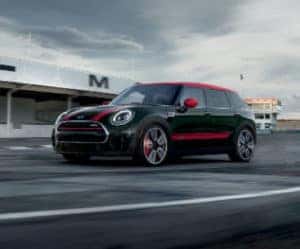 reliable vehicles that offer unique styling, turbocharged performance, and cutting-edge technology. That said, there are a few distinguishing characteristics between the two.
Deciding which is right for you can be difficult. Luckily, for drivers in the Bronx, Queens, and Manhattan areas, we've placed these two vehicles side by side, so you can compare the Mini Cooper vs. Volkswagen Golf to see which one is right for you. Feel free to contact us with any questions.
Performance
The MINI Cooper Clubman is equipped with a MINI TwinPower 1.5L turbocharged three-cylinder that produces 124 horsepower, while the Volkswagen Golf engine is only a single turbo. There's also a 2.0L turbocharged four-cylinder engine option for the MINI, which is incredibly quick.
The MINI also uses customizable drive modes for throttle control and smooth shifting. In any mode, the MINI handles like a sports car, which remarkable agility, control, and road grip, especially around tight curves.
By comparison, the Golf is soft, sluggish, and doesn't handle the curves with the expected athleticism. In addition, the Golf offers transmission options, but no specialized modes to control the ride quality or adjust to driving conditions.
Styling
There's virtually limitless versatility with the MINI Cooper. Some options include a two- or four-door hatchback, a four-door wagon, and a two-door convertible. Paint colors and unique features offer more personalization for the MINI, depending on your taste, but it still retains that modernized retro look that made it so popular in the first place.
The Golf is offered in hatchback and wagon variants, all of which are understated, and other than paint color, that's about it for customization.
Technology and Features
For the MINI Cooper Clubman, the customization doesn't stop at the exterior. Inside, there are a variety of packages to make the MINI your own, from the premium package with a Harmon Kardon® sound system and dual-panel sunroof, to the fully-loaded package with a heads up display and parking assistance, and the technology package with the upgraded 8.8-inch touchscreen infotainment and navigation. There are also countless combinations for interior colors, accents, and other standalone options.
The Golf, on the other hand, has a spartan interior for its base. In order to get a decent infotainment system, higher-quality upholstery or a better stereo system, you'd have to move up to the mid-level trims. As for advanced safety features, they're only available for the higher trim levels. The Golf also doesn't offer the same range of configurations, so you're basically stuck with the existing interior.
Mini Cooper vs Volkswagen Golf-Which is Better?
A car is a significant investment, so you'll want to be able to make it your own. The 2018 MINI Cooper Clubman offers so many options, features, and configurations that you'll be able to customize nearly every inch of your vehicle. To boot, its performance and handling drastically outmaneuver that of the Volkswagen Golf.
Drivers in the Bronx, Queens, and Manhattan areas can browse all the available options for the 2018 MINI Cooper Clubman by visiting MINI of Manhattan. While you're there, schedule your test drive of the 2018 MINI Cooper Clubman to see what all the fuss is about.