2018 MINI Cooper Clubman vs Honda Fit
The MINI Cooper Clubman is a popular vehicle on the streets of

 Manhattan, whether you're traversing Queens, the Bronx, or any of the other boroughs. It's hard to pinpoint a direct competitor to the vehicle, since MINI is so unique across the board. It's larger than the standard MINI, but isn't quite a crossover SUV. Perhaps the closest vehicle to it is the Honda Fit, a subcompact hatchback that offers performance and personality in its own right.
It's not unreasonable for drivers to wonder how the Clubman compares to the Fit. The simple answer is, it excels. Contact us today and check out this comparison of the MINI Cooper Clubman vs. the Honda Fit to learn why the Clubman is the best choice for a fun and sporty vehicle.
MINI Cooper Clubman vs Honda Fit
This year, the Honda Fit gets an updated style, a new mid-tier trim, and additional driver aids and safety technology, as well as an upgraded infotainment system with smartphone app integration, as well as updated tuning to the steering and suspension as well as improved sound insulation.
The Clubman this year is entering its third year in the current design scheme, and gets a few upgrades this year in terms of styling and features availability, as well. Let's see how these two vehicles stack up in a direct comparison.
Engines and Performance
At its base level, the Cooper Clubman comes with a turbocharged 3-cylinder engine and gets 134 horsepower with 162 lb-ft of torque matched up with either a manual or automatic transmission. At higher trim levels there are two turbo four engines available, one that gets 189 horses and 207 lb-ft of torque, and one that gets 228 HP with 258 lb-ft of torque.
By comparison, the base engine at the Honda Fit is a 1.5L 4-cylinder. That only gets 130 horses and 114 lb-ft of torque, and that's if you choose a manual transmission. With a CVT the numbers decrease to 128 HP and 113 lb-ft of torque. Power is not the strong suit of the Honda Fit, so if you're really looking for get up and go, you'll want the Clubman.
Base Features
The Honda Fit comes at its base level with remote entry, cruise control, and an infotainment system with a 5-inch screen, Bluetooth®, and four speakers. With the CVT you get crash warning and automatic braking, plus lane keeping and Adaptive Cruise Control.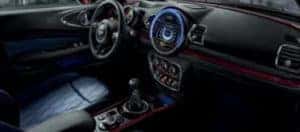 The Mini Cooper's base trim, by comparison, gives you a ton of features, including automatic wipers, automatic headlights, remote lock and unlock, heated mirrors, automatic dual-zone climate control, driver select modes, ambient interior lighting, and an infotainment system that has six speakers, Bluetooth®, smartphone app integration, a USB port, HD Radio™, and a 6.5-inch central display interface.
The MINI not only gives you more power, it gives you a lot more in terms of standard features.
Drive the Clubman at MINI of Manhattan
When it comes to a comparison of MINI Cooper Clubman vs. Honda Fit, the MINI wins out handily. If you'd like to test drive one and see for yourself on the roads of the Bronx, Queens, or anywhere in Manhattan, stop into MINI of Manhattan today!