MINI Cooper Clubman Maintenance Schedule
---
Have you ever struggled to keep track of your car's maintenance schedule? If so, you're not the first. Life tends to get busy, and it's easy for routine oil changes, tire rotations, or even some of the bigger issues to get away from you.

The MINI Clubman was designed to compensate for these common slipups, offering the intuitive MINI Maintenance System. To show the Bronx, Manhattan, and Queens drivers just what this system can do, the MINI of Manhattan team has put together this easy to follow guide.
Don't Stress Over MINI Clubman Maintenance
Today, there's more than a few maintenance apps available (in addition to simply writing down your schedule the old-fashioned way) to help you keep track of things. But the MINI Clubman completely eliminates the need for any of these with the MINI Maintenance System.
The Clubman is constantly running vehicle diagnostics to determine when routine maintenance is approaching, or even when a larger issue may have developed. As soon as it detects anything, it will send you a message.
Tracking Your Maintenance
There's two ways to track these maintenance messages. First and foremost is using the maintenance service display, which can be found in your instrument cluster beneath the speedometer.
The service display is the best choice for tracking routine maintenance. For example, oil levels are constantly monitored. Not only will your Clubman tell you when a change is due, it will also list a countdown until your next service date. Common display services include:
Engine Oil (date & miles)

Air Filters
Tire Rotation & Tread Check
Front Brake Pads (miles)
Rear Brake Pads (miles)
Brake Fluid (date)
Vehicle Check (date & miles)
If a vehicle check is required, then something more complicated has likely arisen. To look for more information, you may want to manually check your vehicle information in the radio menu.
MINI Service That You Can Rely On
As smart as your MINI Maintenance System is, when something out of the ordinary goes wrong with your vehicle, nothing can beat the trained eye. Don't wait-contact the technicians at MINI of Manhattan to thoroughly inspect your vehicle.
These folks are not only experienced, they're also passionate. They truly know MINI vehicles like the backs of their hands. If something's gone wrong under the hood, they should be able to spot it the first time-and quickly, to boot.
Don't Let Environment Affect Your Car's Performance
When it comes to routine maintenance, you should be aware that the MINI Maintenance System is based on suggested maintenance intervals. In other words, added wear from city living isn't going to be taken into account.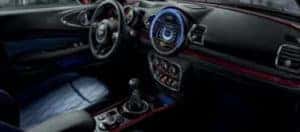 Stop and go traffic, long idling periods, and cramped city streets are all bound to speed up your maintenance schedule. Check the maintenance system frequently, and schedule appointments promptly to keep your Clubman in tip-top shape.
Is it Time for Service?
It couldn't be easier for the Bronx, Manhattan, and Queens drivers to schedule service at MINI of Manhattan. Either contact us online or over the phone, and we'll have your Clubman in here as soon as possible.
Your MINI Clubman is a fine-tuned machine. Show it the love it deserves by following your maintenance schedule to the letter!