2018 John Cooper Works Safety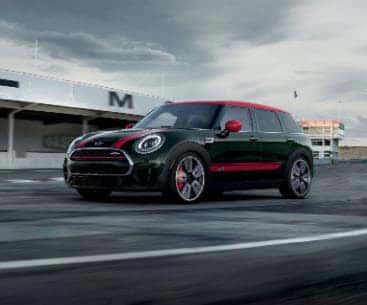 The MINI Cooper offers several versions that you could drive around the Bronx, Queens and Manhattan, including the popular John Cooper Works. With this MINI, you'll get iconic style and performance, making every single drive an unforgettable experience.
The John Cooper Works has many outstanding features to consider, but those dedicated to safety are some of the most important. Reading a review of the safety features provided by this MINI should help you see why driving it is the right choice. Here are some of the 2018 John Cooper Works safety features that you should know about if you're considering investing in this automobile.
Air Bag System
When it comes to automotive safety equipment, there's almost nothing more important than air bags, which can help lessen your chances for injury in an accident. Fortunately, no matter where you're sitting in the John Cooper Works, you'll be protected by a comprehensive air bag system.
In the front of this model, there is a side air bag, passenger air bag, driver air bag and head air bag. A rear head air bag makes sure that backseat passengers are protected during a collision.
Equipment to Keep You in Control
Slippery road conditions are one of the most common causes of accidents, which is why you want to make sure you're driving a vehicle that includes safety equipment to help you stay in control at all times. Luckily, this is exactly what you find when you hop inside the John Cooper Works MINI.
For instance, to guarantee you have the stopping power that you need, this MINI provides four-wheel anti-lock braking and disc brakes, as well as a brake assist system. 2018 John Cooper Works safety features also help give you better control on slick roads, including a Traction Control System and Electronic Stability Control.
Active 2018 John Cooper Works Safety Features
If you're like many modern drivers, then you're probably interested in owning an automobile that includes active safety systems, which is another great reason to drive this exciting MINI model.
With this MINI, you'll be able to add the available Active Driving Assistant. This high-tech safety system includes a variety of intelligent features that can reduce your risk of a collision, including Automatic Emergency Braking, Front Collision Warning and Speed Limit Information. High Beam Assist ensures you'll always have a clear view of the road.
Visit MINI of Manhattan Today
As you can see, the 2018 John Cooper Works' safety features will help you stay secure when you go for a drive. If you'd like to learn more about this MINI model, check out this full John Cooper Works review or call MINI of Manhattan today to schedule an appointment and test drive.
For Manhattan, Queens and Bronx consumers who are interested in driving a MINI, visiting our dealership is the best solution. We have models that will meet the needs of every driver, whether you want the latest MINI available or wish to drive an affordable, dependable pre-owned vehicle. Contact us today and let us tell you about our exciting selection.