How to Check Brake Fluid
As the single most important piece of your vehicle's safety system, the brakes need to be in top shape to perform as well as you need them to each and every day. Your part in ensuring that your brakes are properly functioning is getting your regular maintenance done on time. These services include brake pad replacements, brake fluid replacements, and rotor replacements.
Today, we're going to talk about brake fluid and answer your most pressing questions, including how to check the fluid yourself. Let's get started!
What Does Brake Fluid Do?
The brake fluid is the mechanism that takes braking power from your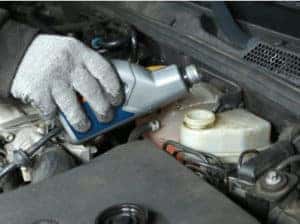 brake pedal to each of your four wheels. In order for this fluid to do its job, it needs to be clean, at the proper level, and be the proper quality for your vehicle. You can see what kind of brake fluid your vehicle needs in your owner's manual or by talking to a service professional at your local MINI service center near Manhattan, Bronx, and Queens.
How Often to Check the Brake Fluid?
To ensure that your vehicle's brakes are in top form, you should get them checked at least every 6 months. You can check the brake fluid yourself, however, and you should do that about every three months as part of your own vehicle inspection. This will ensure that you know what maintenance services you need when you take your vehicle for your next service appointment, and that you can take preventative measures to keep your vehicle in top shape.
How to Check the Brake Fluid?
The brake fluid in your vehicle is easy to check, and it's about the same time commitment as other fluids that you check regularly, like the motor oil and wiper fluid. The brake fluid reservoir will usually have the word BRAKE on top and it's found under your hood. If you're not sure exactly where the brake reservoir is in your vehicle, see your vehicle's owner's manual.
To begin, use a rag to clean the brake reservoir top before opening it. This will ensure that no dust or dirt gets into the reservoir to affect your brake function. Then, carefully open the brake fluid reservoir. You may need to use a screwdriver if your vehicle is older, but most new vehicles have a plastic cap.
Next, check the fluid level with a simple visual inspection. The fluid should be within about an inch of the top of the reservoir. The top is usually the cap, so the fluid should be within an inch of the cap of the brake fluid reservoir.
If the brake fluid is low, dirty, or dark in color, have it inspected by a brake service professional. Note that brake fluid is toxic and temperamental, so you'll want to keep your inspection of the brake fluid under 15 minutes so the fluid doesn't get ruined by moisture in the air. And be sure to throw away the rag you used to clean the brake reservoir by taking it to a toxic waste center for disposal.
Schedule a Brake Service Appointment
If you've checked the brake fluid in your vehicle and you think that it might need to be replaced, schedule a service appointment at your local MINI service center near Manhattan, Queens, and Bronx. The service department at MINI of Manhattan is equipped to take care of all of your vehicle's repair and maintenance needs. We'll be happy to work with you to keep your brakes working correctly.
Schedule a brake service appointment online now at MINI of Manhattan to make sure that your vehicle runs smoothly for years to come.