Delivering Love and Health: God's Love We Deliver Organization
The holidays are upon us, and you're probably full of holiday cheer. Wouldn't it be awesome to spread that happiness to even more people? If you think so, gather your family and friends and volunteer together at the God's Love We Deliver Organization.
Let's see how they help those in need–not just during the holidays, but all year long!
How It All Started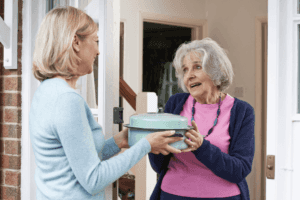 God's Love We Deliver was founded in 1985 by Ganga Stone and Jane Best. The idea, however, was born almost a year prior.
Ganga Stone was a hospice worker and went to visit an AIDS patient that was too ill to cook for himself. On her next visit, she brought a meal with her, and quickly realized that this simple gesture could bring love, compassion, and health to those in need.
In 2017, God's Love We Deliver celebrated the delivery of their 20 millionth meal. Plus, they have extended their reach beyond AIDS, helping those with cancer and other serious illnesses. They also help educate clients, families, and caregivers on the importance of illness-specific nutrition.
Join the Cause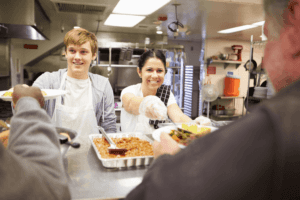 If you're thinking about volunteering during the holidays, you're in luck. It's one of the most exciting times of the year at God's Love We Deliver. You can help in the kitchen prepping their special Winter Feasts in addition to their weekly meals, or you can decorate holiday cards for their clients. God's Love also provides gifts for the children of their clients, and you can sponsor these gifts!
There are also volunteering opportunities available year-round. You could join their kitchen staff and help cook the meals. You could also help with packing the meals. One of the most rewarding opportunities is meal delivery. You can either ride in the van with a staff member or take an hour or two at lunch to do walking deliveries!
If you're looking to get your business or a big group involved, God's Love We Deliver is the place to be. Their activities blend team-building with that warm, fuzzy feeling that comes with giving back to the community.
Deliver Some Love Today!
You can become one of 16,000 volunteers to help the God's Love We Deliver Organization each year. The dignity and delicious food that they provide to the people of this community wouldn't be possible without dedicated people just like you!
Visit their Facebook page to get started!