Buy vs Lease
If you're looking to get behind the wheel of your own MINI vehicle, you may find yourself wondering what is the best financing option for you. After all, owing a car in Manhattan, the Bronx, or Queens is unlike anywhere else. For your lifestyle, leasing may be the best option.
Vehicle financing is a huge decision, and it's not one that should be taken lightly. So, to help you make the best decision for your needs and budget, our team at MINI of Manhattan have put together this helpful article.
How Are Car Payments Determined?
Before you can even begin to decide which financing option is right for  you, you should have an understanding of how car payments are actually determined.
When buying a car, it's pretty simple: you're paying for the vehicle's full value. That means that every month you'll be paying that price tag off, little by little.
When leasing, things are a little different. Before you sign on, you'll determine the number of years you'll have the car, usually three to six. Over that time, you'll pay a monthly depreciation value. Ultimately, this is just a small chunk of the full price.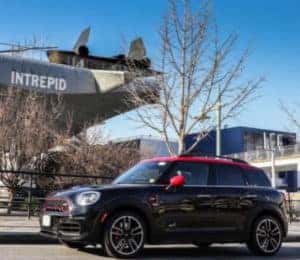 Benefits of Buying
If you're a fan of long-term commitments, then buying is right up your alley. Not only will it grant you the thrill of total ownership, you'll also be afforded several other benefits.
The payments aren't forever. Think long term. When purchasing you may be fixed into a payment plan for several years, but eventually, you'll have paid it off entirely. When that happens, you'll have one less bill to worry about every month.
You choose when to pay it off. Another major benefit is that you're in control of your financial situation. Once you've filled out the paperwork, you can negotiate terms with the financing company and make a plan to pay off the vehicle sooner if you want to.
Upgrade your vehicle whenever you please. You bought the car, which means that you aren't beholden to anybody. You can do whatever you want to your car. Want to upgrade it with some genuine MINI parts? Want to add a custom paint job? It's all up to you. There's nobody that can penalize you for altering your own car.
What are the cons?
There are a couple drawbacks of buying a vehicle that you should be aware of. For one thing, your payments are going to be higher, which includes your initial down payment and vehicle tax that some may consider more financially burdensome.
The other problem is that it's not as easy to trade in your car when you own it. Odds are, you're going to be stuck with it for a while, and it may grow a little outdated in time.
Benefits of Leasing
Leasing is a great option for buyers who need a vehicle for the short term, don't have a lot to offer for a down payment, and are interested in getting new cars frequently.
There are many benefits of leasing a vehicle, particularly for a first-time buyer or someone who's looking to get an upscale vehicle without carrying the debt of ownership. Here are a few benefits we came up with:
You're not tied to owning the vehicle forever. Depending on where you live, or the kind of lifestyle you have, ownership isn't always the most practical choice. If you prefer to trade in often and stick to smaller monthly payments, leasing is probably the best option for you.
Maintenance and service may be covered. Sometimes with a lease, you get extra deals like included maintenance and service appointments. This helps the leasing company know that the vehicle will come back in good condition and that your warranty is maintained.
You're always going to have a newer vehicle. These days, cars are changing rapidly. Every year brings new features, gadgets, and designs. In most cases, by the time your lease is up, the car may have grown a little old. Fortunately, you can trade it in with no hassle and start over with something brand new.
What are the cons?
Since you don't actually own your lease (the bank does), there's going to be  some rules you have to stick to. First and foremost, the condition that you drove the car off the lot in is essentially the condition you'll have to return it in. That means no customization, no excessive wear, and no damages. If there are any, you'll incur a penalty.
Not only that, but you'll have a set number of miles you'll have to stick to in a year. If you go over them, you could be penalized for that, too.
If you're not a fan of all these restrictions, leasing is probably not a great choice for you.
Let Our Finance Team Help You
If you're still not sure whether it's better for you to purchase or lease your next vehicle near Queens, Manhattan, and the Bronx, consider speaking to a financing professional at MINI of Manhattan.
It's our goal to help you get behind the wheel of your next vehicle in any way we can, so we'll work with you to meet both your short and long-term financial goals. We sign leases every day, and work with customers from all financial backgrounds. No matter what challenges you may have, we can find a solution.
Stop by MINI of Manhattan Today to Get Started
The team at MINI of Manhattan is committed to ensuring your satisfaction. Start today by speaking to a member of our team about financing for your next MINI vehicle.
You can browse our inventory online from the comfort of your own home, and even schedule a test drive, too! When you get here, all your favorites models will be waiting, ready for you to take them for a spin.
MINI of Manhattan is centrally located at 793 11th Avenue in New York City. Schedule a test drive online or contact us today!