MINI Cooper Plug-In Hybrid Review
Average citizens and corporations have taken steps to help the environment in recent years. Whether you recycle paper and plastics or use eco-friendly products, every little action counts. Many automakers started building hybrid cars to conserve fuel and to cut down on fuel emissions. If you're looking to buy a hybrid car, consider a MINI. For 2018, MINI introduced its hybrid model, the S E Cooper Countryman. Learn more by reading our MINI Cooper plug-in hybrid review.
Performance
The hybrid car can run on a battery-operated e-motor, fuel, or a combination of both. To electrically charge your car, you plug the 7.6 kWh lithium-ion battery into a 220-volt charging station. The car can also use the twin-turbocharged 1.5L 3-cylinder engine. Combining the e-motor and engine with all-wheel drive produces 221 horsepower and 284 lb-ft of torque.
If you drove the hybrid on the e-motor alone, you could go for twelve miles before you need to recharge the battery. Therefore, the electric-only driving is better suited for short trips around town. With both gas and electric, you could drive a maximum of 270 miles before recharging.
The S E Cooper Countryman drives smoothly, merges easily onto highway traffic, and can go from 0 to 60 MPH in an impressive 6.7 seconds.
Learn more about the plug-in hybrid MINI Cooper!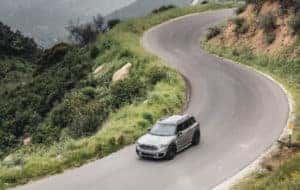 Fuel Economy
As a hybrid, the S E Cooper Countryman offers the best fuel economy of any of MINI's vehicles. When you start driving with the e-motor, you get an EPA estimated 65 mpg-e. If fuel economy is a priority for you, make sure you use the car with a fully charged battery.
Drivers from Manhattan, Bronx, and Queens are welcome to visit MINI of Manhattan. Check out our inventory and ask our dealers about the benefits of a hybrid car.
Interior
The S E Cooper Countryman seats a maximum of five people. With standard leatherette upholstery, the seats are plush and very comfortable. For a more luxurious look, leather seats are available. While the back row has plenty of legroom, the back row can also slide or recline for additional comfort or cargo space.
Technology Features
All MINI Coopers come with a MINI Connected infotainment system. The standard 6.5-inch touchscreen can be upgraded to an 8.8-inch touchscreen for excellent graphics. Apple CarPlay™ is also available for those passengers who want to connect with their Apple devices. Go to MINI's website to learn more about its technology features and specs.
Visit Your MINI Dealer
Buying a hybrid car is a major step toward helping the environment. However, to make the most of saving gas and reducing fuel emissions, you need to know how to drive the hybrid properly. MINI of Manhattan can help you with that! We hope our MINI Cooper plug-in hybrid review provides you the information you need to choose your next MINI.
MINI of Manhattan services the areas of Manhattan, Queens, and Bronx, NY. If you live nearby, come to our dealership and ask for a test drive. Our dealers will gladly answer any questions you have about hybrids. Contact us to drive the Cooper plug-in hybrid today.